Alonissos Underwater Museum, Peristera
The Undewater Museum is the first of its kind in Greece that is open to the public. It was launched in August 2020 by the Minister of Culture Lina Mendoni, along with the Mayor of Alonissos Petros Vafinis and the Thessaly Regional Governor Kostas Agorastos, who both participated in the 30-meter inaugural dive.
The shipwreck is now open to recreational divers who will have the opportunity to explore it under the guidance of experienced divers. The Museum operated in pilot mode until October 2020 and is now open to everyone during the summer season. For more information on the diving centers that organize visits to the shipwreck site, please visit our Contact page.
We look forward to your stay.
Alonissos Municipality
Minister of Culture Lina Mendoni launched Greece's first underwater museum in Alonissos. Image: Ministry of Culture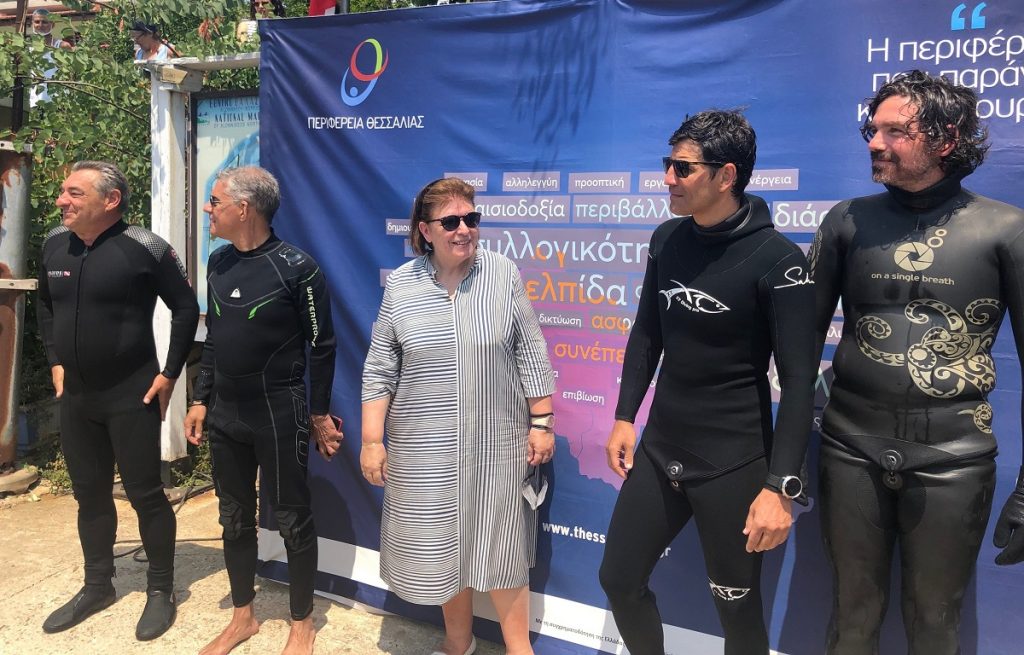 The Alonissos Underwater Museum features one of the biggest Classical-era shipwrecks. It is dated around 425 to 420 B.C and was discovered in 1985 by Dimitris Mavrikis at a 25-meter depth off the coast of the islet Peristera.
Due to its unique size, the ship ranks among the biggest commercial ships of its time. It was 30 meters long and 10 meters wide. It was carrying around 3,000 amphorae full with the renowned wines of Mendi (a city in modern day Chalkidiki) and Peparithos, which is modern day Skopelos. The big commercial vessel probably belonged to an Athenian merchant and seems to have run into stormy weather while sailing near the coast, where it sank. Another plausible theory is that a fire broke out on deck, which eventually caused the sinking of the ship.
The amphorae found had the letters ΛΥ inscribed on them, which was probably at that time a way of marking the goods. The course of the ship cannot be determined; some say that, when the fire broke out, it was heading to Alonissos to unload the goods, while others speculate that it had just departed from Alonissos, that's why it was found not very far from the port.

The vessel is considered to be of uttermost importance to archaeology because of the number of intact findings. It is so important that it is dubbed as "The Parthenon of Shipwrecks".
Our core mission is to promote alternative tourism, raise awareness about the richness of natural and cultural underwater world, as well as the protection of the Monk Seal.
Our team's common vision is to pave the way for similar projects at key archaeological sites in Alonissos.